When you join P&P Industries, one of the first things you will notice is the family-like culture that is fostered here. P&P Industries was founded over 50 years ago on a foundation of employee empowerment, education and commitment. Over time, these core values have contributed to the development of a strong team oriented environment. This environment directly results in employees who are truly proud of the products we produce.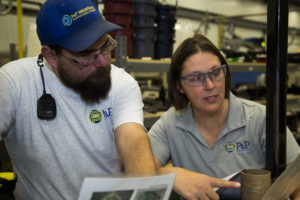 In the summer of 2012 P&P moved into a new 100,000 sq. ft., state of the art facility located in the Meadowlands Business Park in Sterling, Illinois. The exponential growth displayed over the past several years has given P&P the ability to grow our employee base. Our opportunities are diverse and present every employee the self-fulfilling challenge of career growth. We consistently strive to promote from within, and stress training to equip our employees with the latest tools for success. As a result of our dedicated, well-rounded employees P&P is able to consistently exceed our customers' expectations.
P&P Industries is dedicated to employee satisfaction through our competitive compensation package. The package includes competitive wages, exceptional benefits and a quarterly profit sharing program.